Ever feel like the economic crisis has got you down? Do you just feel like you want to stick it to the man? Well, have I got news for you! A new game called "Debtris" allows you to play the classic game of Tetris with the United States debt up till now. What a beautiful irony: that which is causing you pain and suffering is now that which provides you with fun and enjoyment via gaming!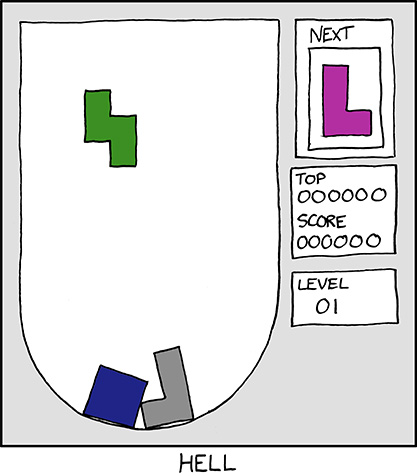 Alright, I may have stretched the truth a tad. Ok, maybe a lot. It isn't an actual game. It's an animation that was created by a group called Information is Beautiful. I guarantee that by the time you are done with the minute and 15 second video, you will be more depressed by the situation than before (it also shows debt around the world). Noticing how things as unnecessary as Wall Street pay raises eclipse things like the Climate Change fund and even the amount of money needed to save the Amazon makes me want to release a rabid Justin Bieber on those unsuspecting stock brokers so that they are aware that I show no mercy.

Check out the video below. It's got the catchy Tetris theme as the blocks come down with the debts they represent explained above. It's honestly a really interesting bit of animation, not to mention entertaining. So go ahead and enjoy the video while you ignore the fact that you should be paying your credit card bills.

Via
Huffington Post
and
YouTube